Arsenal Vs Leicester City
This match is destined to produce more than two goals, because both teams haven't had problems scoring all season, and this is a top of the table clash which might go a long way in determining where the Premier League trophy goes.
Betting Prediction:
Bet Over 2.5 @ 1.70
Chelsea Vs Newcastle United
Chelsea have recently found form since the return of Guus Hiddink, and they haven't lost in their last 5 games, and we can bet on them to win this as well, but Newcastle united usually find a way to score against Chelsea. So Chelsea will have to outscore them to win, therefore more than two goals will be scored in this game
Betting Prediction:
Back Chelsea and Over 2.5 @ 2.05

Manchester City Vs Tottenham Hotspur
Manchester City will sense that the premier league trophy is slowly getting out of their grasps as they have been inconsistent all season, and coming up against a Tottenham side who are currently firing on all cylinders, both teams will try to outscore each other, hence the match been billed as an "over 2 goal" match.
Betting Predictions:
Back Manchester City and Over 2.5 @ 3.00
Real Madrid Vs Athletic Bilbao
Real Madrid are the highest scoring side in Europe's top 5 leagues with 66 goals in 23 games, an average of 2.8 goals per game.  Bilbao have conceded 30 goals in 23 games, with these stats, it's virtually impossible for this game to see less than 3 goals.
Betting Prediction:
Back Real Madrid and Over 2.5 @ 1.60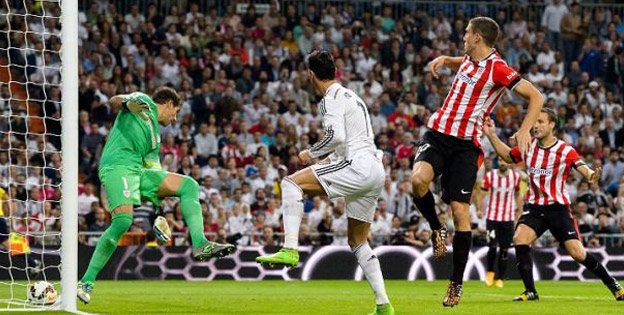 Barcelona Vs Celta De Vigo
Celta de vigo have been great against Barcelona recently, and they won the last game against these two sides 4-1. A result which was a shock to the football world. Barcelona have however been a different team since that defeat and going by the form of League top scorer, Luis Suarez, this match will definitely produce at least 3 goals.
Betting Prediction:
Bet Over 3.5 @ 1.58
Paris Saint Germain Vs Lille
PSG have won all of their last 5 games, scoring 14 goals in that stretch; an average of 2.8 goals per game. PSG have league top scorer Zlatan Ibrahimovic in their ranks, and His consistent displays proves that he is more than likely to hit the back of the net this time around. Hence our prediction that this game will definitely produce more than 2 goals.
Betting Prediction:
Bet Over 2.5 @ 2.05
Augsburg Vs Bayern Munich
Bayern Munich are certainly not lacking in the goal scoring department this season, and it is only natural to expect them to score a ton of goals all season. This game won't be any different, they will definitely score more than 2 goals. They have enough fire power in Robert Lewandowski and Thomas Muller.
Betting Prediction:
Back Bayern München and Over 2.5 @ 1.75