Some boxing betting experts say that Amir Khan versus Canelo Alvarez is a mismatch. We believe it's not. Each man has the stats to beat the other, but each man's stats however is missing one thing that could save his life.
Amir Khan (31-3, 19 KOs) is a world-class fighter who does not get the respect he deserves. He used to; but that ended on July 14, 2012, at the very moment that a Danny Garcia hook clipped the side of his head and knocked him senseless, destroying his untouchable image. Since then, the world seems to think that Khan's fatal flaw had been exposed. He was not regarded as a complete enough fighter to climb up the pound-for-pound lists any longer.
Let us, however, give Amir Khan's talents a rational assessment. He has some of the very fastest hands in all of boxing; certainly the fastest hands above featherweight. Khan is athletic, and his legs are fast too, but his straight punches have more than enough speed to render even quick fighters helpless to get out of the way. Amir Khan can hit a fighter standing directly in front of him with jabs before his opponent's eye can tell his mind to tell his body to move out of the way. His hands are fast enough to change the offensive balance of a fight. He can throw four, six, eight straight punches in a flurry and then circle away before a single counterpunch can come back. It is a powerful gift.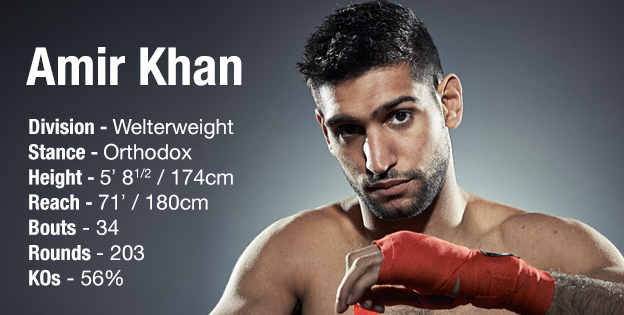 Earlier in his career, when he trained with Freddie Roach, he was extremely aggressive, a quality that Roach tends to cultivate in his fighters. For Khan, it was foolish. Though he managed to overwhelm many opponents with unbridled attacking speed, he also rushed into many punches that he didn't need to. Since his switch to training with Virgil Hunter, Khan has adopted a boxing style much better suited to his abilities: he circles constantly, he uses his jab and straight right, and makes his speed his defense, rather than just his offense. When he resists the urge to jump forward and get into flurry contests, it is very, very hard for anyone to beat Amir Khan. In fact, none of his three losses were actually true demonstrations of a better fighter defeating him. Breidis Prescott knocked him out with a single punch in the first round in 2008; Danny Garcia, who was seen at the time as far more mediocre than Khan, likewise caught him with one big shot that led to his end early in the fight. His third loss was by decision to Lamont Peterson, in Peterson's hometown of DC; a match that Khan clearly should have won. These losses tell us that;
Amir Khan may not have the greatest chin against big punchers.
Amir Khan should not fight like he's in a bar fight.
A greater fighter has not outboxed Amir Khan when he fights intelligently.
That has never happened. It has never been convincingly shown that he can be beat when he moves, and showers his opponent with combos, and does not stick his chin out. Coincidentally, that will be his game plan.
Canelo Alvarez (46-1-1, 32 KOs) is certainly the scarier fighter. But is he the better fighter? At 25 years old, Canelo is only now becoming a fully realized fighter. He has a ton of pro fights but lacks the world class amateur career that propelled Khan through the Olympics. He is a terrifying, explosive puncher, with a right hand like a bolt gun and a left hook that stretches his chest muscles to extreme proportions, as if he were trying to rip out a cow's stomach. He is one of the most reliably dangerous punchers in boxing; if you trade with him, you will be knocked out. Any opponent who fails to move for the entire fight can find themselves, like James Kirkland last year, knocked out so decisively that everyone wonders how their head managed not to leave their body.
The good news for the rest of the world is that Canelo is flat-footed. He carries a lot of muscle and fights in spurts, with vicious explosions followed by predictable periods of inactivity. He is quick and possesses solid boxing skills, like slipping punches and countering, but they only take place within a four-square-foot box directly in front of him, a box that he seems to trudge across the ring and set up in front of his opponent before the demolition begins. It is possible to outsmart him, out-time him, and stay away from him, as Floyd Mayweather demonstrated in Canelo's only loss. Of course (you know how fast Floyd Mayweather runs around). And then there is the little problem of the weight. This fight will take place at 155 pounds, Canelo's preferred weight. Amir Khan's most impressive victories took place at 140 pounds. That is quite a leap. Khan may carry up his speed, and he may carry up an increase in his power, but he will also carry up his chin. That is a problem. If a chin cannot handle a big-punching 140-pounder, it will not do well against Canelo Alvarez.
So the fight will rest entirely on how well Amir Khan fights it. He has the foot speed and the hand speed and the experience to keep Canelo at a distance, tag him with fast punches, and exit the premises. Counting on him to do this flawlessly for 12 rounds is probably not a good bet. But it is a real possibility. And that is what makes it all so interesting.
Concerning boxing betting predictions, we'll advise you to back Canelo for a KO @ 1.40 even if Khan has a chance of winning through prolonged hits @ 2.70