UEFA Champions League Betting Final – Real Madrid vs Atletico Madrid
The much awaited Champions League 2016 final is here and the two Spanish neighbours – Real Madrid and Atletico Madrid lock horns in the penultimate fixture at the prestigious San Siro in Milan. This is the second time in 3 years that these two teams will strive against each other in the tournament's final and it is anyone's game on Saturday evening; a difficult decision for football betting fans all over the world.
Real Madrid are record winners of the Champions League with 10 titles and their new coach Zinedine Zidane will no doubt be gunning for the eleventh title. Zidane, who won the title with the Los Blancos scoring the decisive goal in 2001/02 against Bayer Leverkusen is also eyeing to become the seventh man to win a UEFA tournament, both as player and coach.
Real's neighbours, Atletico Madrid are aiming for their first Champions League title and they would definitely want to make amends for losing the title to Real in the dying minutes of the 2013/14 final in Lisbon. As Simeone has mentioned, his team has overcome two world class teams in Barcelona and Bayern Munich en route to the finals and his men are more than ready to go against Real on Saturday night.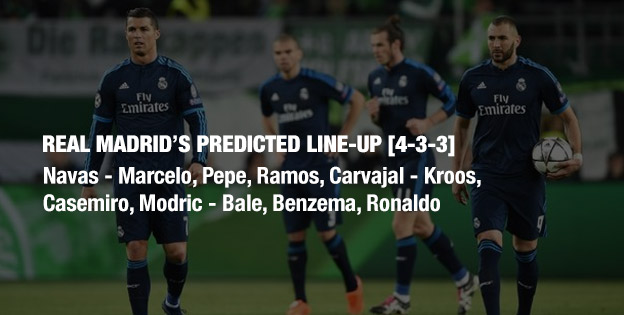 Football Betting Team News:
Real Madrid's Raphael Varane will miss the final and Euro 2016 with a thigh injury, while the veteran full back Alvaro Arbeloa is reported to be struggling with a knee problem. They've also been dealt a huge striking blow after Cristiano Ronaldo limped off the pitch during Tuesday's training session after colliding with reserve keeper Kiko Casilla. He is expected to take the field, even though not fully fit.
Diego Simeone has no players missing through injury or suspension. He might have some selection headaches as many players as pushing for a start on Saturday night.
Football Betting Stats:
The teams have played against each other on 54 occasions so far, Real Madrid winning in 31, Atletico 9 and 14 draws. The goal aggregate is 94-53 in favour of Real.
Since the Champions League title victory in 2013/14, Real Madrid had beaten Atletico only once in 10 meetings in all competitions. However, the only win came during the quarter finals of last year's Champions League second leg at Santiago Bernebeu. Atletico Madrid have won in 5, drawn 4 and lost 1 of the last 10 meetings with Real Madrid; this tip sways tomorrow's football betting predictions to favour Atletico.
In this season's Spanish La Liga fixture, the teams played a 1-1 stalemate at Vicente Calderon and Atletico earned a 1-0 win at Santiago Bernebeu.
Ronaldo has scored 16 goals in this season's Champions League so far, need 2 more goals to break his personal best of 17 goals scored during Real's 2013/14 title winning season.
Real Madrid have reached the Champions League/European Cup final for the 14th time, more than any other team. They have won 10 of those – also a record, including the last four (1998, 2000, 2002, 2014).
Atlético Madrid have reached the Champions League/European Cup final for the third time (1974, 2014, 2016). They have so far lost their previous two finals (v Bayern Munich after a replay in 1974; v Real Madrid after extra-time in 2014).
This is the third time in the last four years that the Champions League final has been contested by teams from the same nation (Germany 2013, Spain 2014, Spain 2016). 2016 included, Madrid have now made 17 appearances in the Champions League/European Cup final (14 for Real, 3 for Atlético), more than any other city (Milan has 16).
There will be a Spanish winner of the Champions League/European Cup for the third consecutive season, the longest run for a single nation since English clubs won it six times in a row from 1977 to 1982.
Atlético have won seven of their last 16 games against Real Madrid, in all competitions (5 draws, 4 losses). They had failed to win any of their previous 25 games against Real (6 draws, 19 losses).
Real Madrid have won only two of their last 12 competitive games against Atlético, but both wins have come in the Champions League (4-1 after extra-time in the 2014 final; 1-0 in last season's quarter-final second leg).
Football Betting Predictions
Finals are hard to predict as both teams will be charged up and giving their all on this historic clash. Real Madrid have plenty of quality players in their squad and made a huge improvement under Zidane after stuttering in early parts of the season. Atletico Madrid are a side built on team cohesion and hard work; they won't be intimidated by their rich neighbours and their recent head-to-head record against Real is a clear evidence of this.
With Zidane and Simeone on either benches, a fierce battle is in the works. The last four meetings between the sides had witnessed under 2.5 goals, but our football betting prediction states a goal festival here. The full time score after 90 minutes could be at 2-2 and may need extra time and/or penalties to find the winner of 2016's UEFA Champions League betting.
Bet Over 2.5 @ 2.30                Bet Both Teams to Score @ 1.95                    Back Benzema 1st Goals @ 5.00