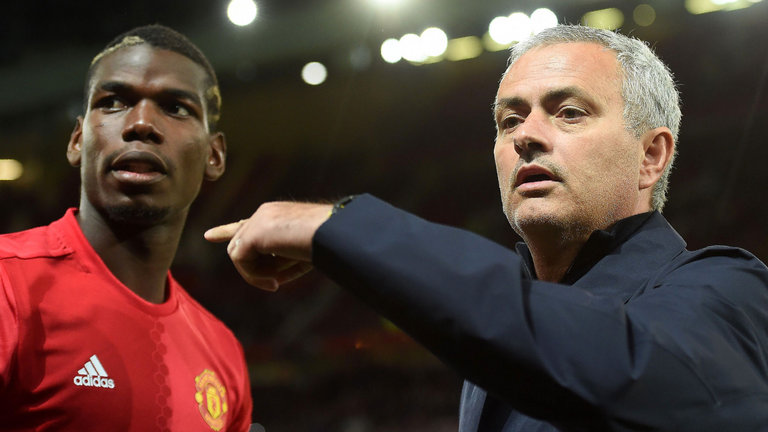 With every passing day, there is a new situation at Manchester United. On Tuesday evening before Jose Mourinho's team took on Derby County in the third round game of the EFL Cup (Carabao Cup), Manchester United manager announced that Paul Pogba had been stripped off his role as vice-captain of the team. The World Cup winner led United out in the first few games of the season in the absence of Antonio Valencia but that will not be happening again. The Portuguese manager said; "The only truth is that I made the decision that Paul will not be a second (vice) captain anymore but no fallout, no problems at all," "The same person that decides Paul is not second captain anymore is exactly the same person that decides Paul was second captain — myself. "I am the manager, I can make these decisions. No fallout, no problems at all just one decision that I don't have to explain".
The real reason for Mourinho's action cannot be established but there are speculations that Pogba criticism of Manchester United's tactics in Saturday's home draw against Wolverhampton Wanderers could be the final straw. In August, Pogba said that he feared he would be fined if he spoke about his feelings at United.
The relationship between United's most expensive acquisition and the club manager has been shaky since last season but after the French player returned from this summer World Cup as a world champion, the expectation was that both camps were ready to open a new page hence his elevation to the role of vice-captain.
Video footage from United's Carrington training base earlier today showed the player and manager in some exchange which looked frigid which is less than 24 hours after the manager stripped the player of his role.
With so many issues to deal, what's next for the club, the manager and player?
Jose Mourinho claims there is no problem between the pair but images and recent actions say otherwise. After France won the World Cup, it was expected that the Portuguese coach would shower his player with praises but Mourinho's response to his midfielder's success was halfhearted at best. He also feels Pogba is easily distracted with off-field activities which is affecting his performance on the pitch. The French midfielder is a man with huge ego who feels otherwise about his manager's comment and in the last days before the English transfer window closed, his agent Mino Raiola tried to engineer a move to Barcelona for his client. In addition to his criticism of tactics in the recent home draw against Wolves, this latest running battle between the pair is likely to add to the already long list of concerns for United fans and board for the season.
Both parties are stuck together for the next few months till the January winter transfer window opens when the player can force a move. For the manager, except he is fired, it would be impossible to drop the French midfielder continuously when a like-for-like replacement isn't available in the team and the best legs needed to revive what is looking like a forgettable season for the Red Devils.
Executive vice-chairman Ed Woodward faces a tricky situation with two men who have their egos well strapped. Who is more important to this Manchester United project: the coach or the player? In the coming days and weeks, the club will need to meet with both parties and find a common ground in a season which will surely produce so many twists and turns.
On Saturday, under pressure manager Jose Mourinho and his Manchester United team travel to London to take on unstable West Ham in a complicated lunch time fixture at the London stadium. Do not forget to visit our Sports shop Babaijebu.ng for best odds for this game where you can play and win BIG.