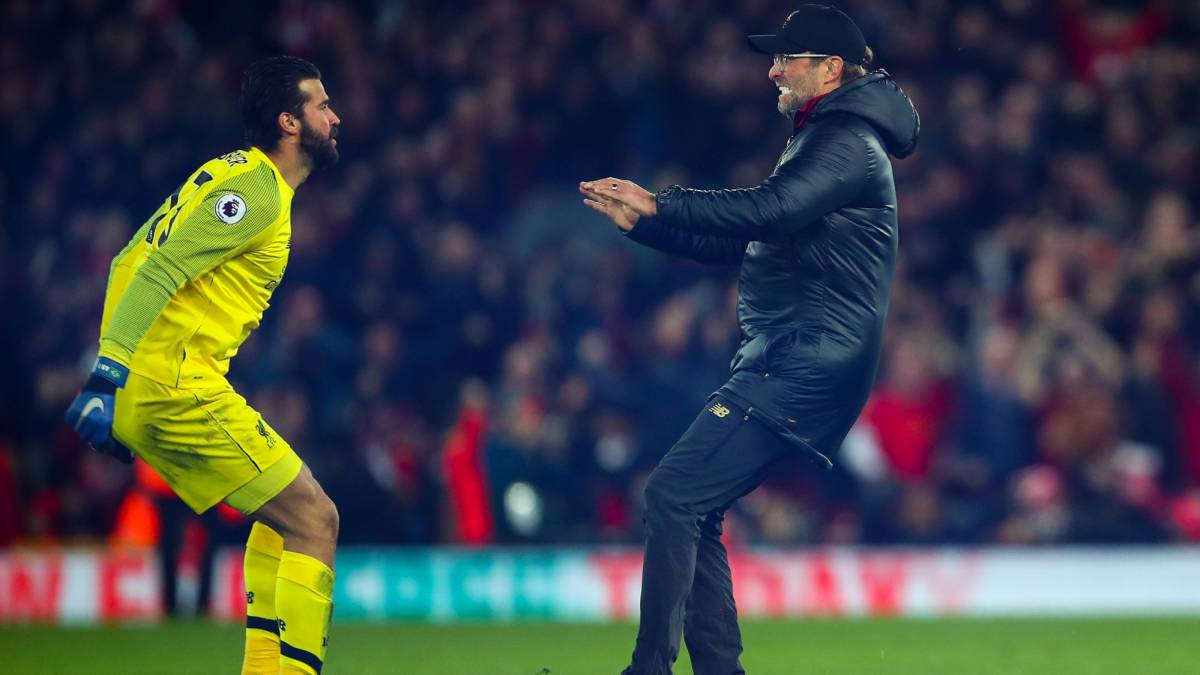 The English Football Association charged Liverpool boss Jurgen Klopp for what they called excessive celebration during Sunday's Merseyside derby. The German tactician reacted to Divock Origi's stoppage-time winner against Everton at Anfield by running on to the pitch and celebrating with his goalkeeper Alisson. In a statement on Monday, the FA said: "Jurgen Klopp has been charged with misconduct relating to his behaviour in the 96th minute of the game between Liverpool and Everton yesterday. "He has until 6 p.m. on Dec. 6, 2018, to respond to the charge."
Klopp apologized during his post-match briefing but his apology doesn't seem to be enough as the FA have slammed him with a charge. His opposite number on the day, Everton boss Marco Silva said he may have reacted in the same manner had Everton scored in that situation. In addition, the former Borussia Dortmund coach has received support from Manchester City manager Pep Guardiola. He said, "I did it. Against Southampton, there's a lot of emotions in those moments. Everything happens in your mind, I talk for my side, you have to be respectful for the other ones. When you win you are a huge personality when you lose it's a lack of respect. When you lose you are impolite, a bad guy, and when you win everything is acceptable. We live in a world where everyone judges the winners and it's just that we win. That's what it is."
Jose Mourinho received criticism in the media for slamming water bottles and its carrier during Manchester United's victory over Young Boys in the Champions League last week. We have seen various forms of reaction from managers when their team score or win at crucial moments in a game but where should a line be drawn or why should a line be drawn in the first place?
Football is an emotional game with so much at stake. Why should we allow fans celebrate wildly in the stands but the protagonists and decisive figures like the coaches be restrained? Some of these coaches are fans of their football club as well. The debate of bringing the game to disrepute or improper conduct is vague in my opinion. Whilst acknowledging that celebrations need to be conducted in a manner not to infuriate the opposition like the case of the Chelsea coach Marco Ianni celebrating wildly in front of the Manchester United dugout is provocation but if a manager runs down the touch line or into the pitch to celebrate with his player in an emotional game be it a derby or a decisive game, my view is that the FA should use discretion and allow people live and enjoy the emotions the game brings with it.
Humans are wired differently, there are managers who keep their passion intact within them while others wear theirs on the sleeve which does not change the feeling or excitement the game brings forth. Jurgen Klopp is the next victim of the FA and its rule on excessive celebration but the governing body need to review this rule and consider the passion of everyone involved while ensuring disrespecting or provoking opponent in the midst of celebration is not encourage.
Liverpool have made an unbeaten start to the Premier League season. After 14 games, the Reds have 11 wins and three draws. They travel to Turf Moor to face Burnley tomorrow. Visit our Sports shop Babaijebu.ng for mouthwatering offers for Premier League midweek games.