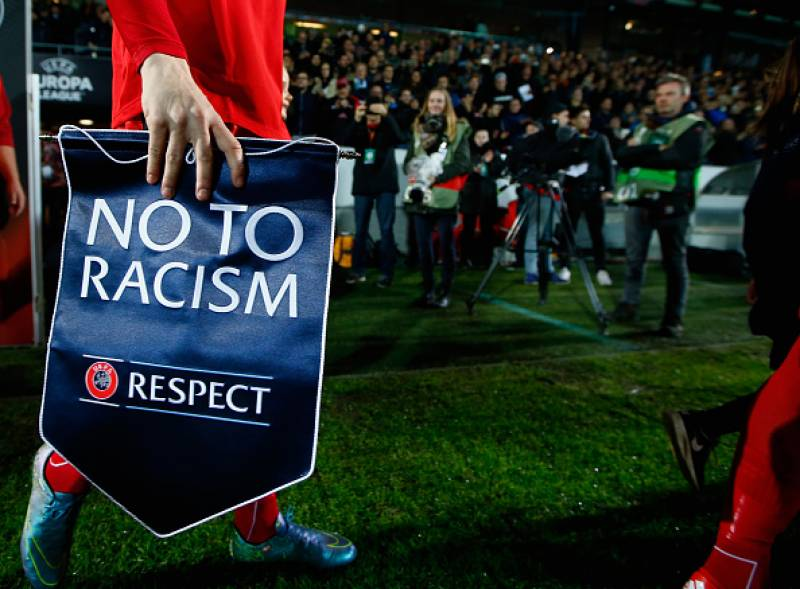 The ugly side of the beautiful game continues to react its ugly head; Racist abuse and anti-Semitic chanting are symptomatic of the unacceptable intolerance in European football. Across the continent, we have seen incidents in Bulgaria, Bosnia, Belgium, England, Italy, Croatia, Denmark, France, Romania, Russia, Germany and even Iceland.
Recent incidents in England and Italy have brought this subject to the front burner again. Raheem Sterling was subjected to racial abuse from a Chelsea supporter who claimed to call him a Manc cunt not a black cunt in the Premier League game between Chelsea and Manchester City at Stamford Bridge early December. The pictured fan has been severely punished by the Football Club and also lost his job with his employers which should serve as deterrent to others. However, it seem more needs to be done in this current age to curb this ugly sights.
In Italy, on a special day like the Boxing Day, there were Serie A fixtures for the first time and the pick of the bunch was Inter Milan hosting Napoli at the Giuseppe Meazza stadium, San Siro, Milan. The beautiful game was marred by unpleasant scenes. Senegalese international, Kalidou Koulibaly sarcastically applauded referee Paolo Mazzoleni for issuing him a yellow card which led to a second yellow and a red but the Napoli defender was visibly upset at the racial insults being hurled at him from the stands. At least three announcements had gone out via the stadium public address system to warn fans that the abuse must stop but it didn't. His manager Carlo Ancelotti revealed after the game that K2 (Kalidou Koulibaly) was without doubt distraught throughout the match as he was subjected to monkey noise during the match. Napoli team officials asked for actions to be taken but the match officials informed them that play could not be halted. What a shame!! "Maybe we have to take matters into our own hands next time and stop play ourselves. They'll probably make us forfeit the game if we walk off, but we are prepared to do it. It's not good for Italian football, seeing this." Ancelotti said. On a personal note, I agree with the former Chelsea manager.
FIFPro and UEFA jointly condemned the abuse too. "We are very concerned by this unacceptable racist incident and by what appears on the surface to be a failure to respect the widely-recognised three-step anti-racism protocol."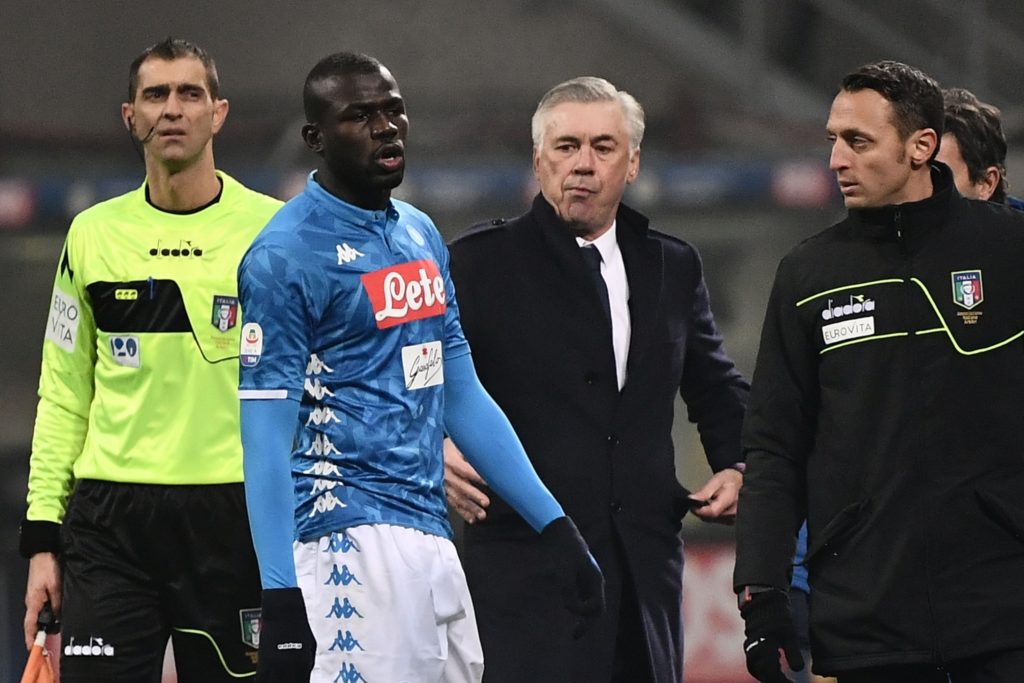 Inter were given a two-match stadium ban, with an additional one-game ban for supporters in the Curva Nord where the majority of the chanting was heard, a standard punishment for these kinds of incidents in Italian football. This is the ridicule of the whole incident, a mere two match ban, not goo enough. Of course it is expected that there are those with different views to this who would say otherwise; Inter not taking gate receipts for two home games will affect their expected revenue but is that enough punishment for the scourge? Italian football authorities and other football governing bodies across Europe should do better.
There is a mooted idea of deducting points from countries or clubs whose fans are found guilty of racist abuse has the backing of nearly two thirds of football supporters, according to a new survey conducted by anti-racism group Kick It Out and lives-core app Forza Football. In the study of 27,000 fans from 38 countries — 60% of respondents said they would support points deductions, while 54% of supporters said they had witnessed racist abuse while watching a game. In the past, football teams have had points deducted for a range of transgressions, including insolvency, financial problems, fielding ineligible players and match-fixing, but not racism. Wow… Racism still being treated with kid gloves.
The survey also found that only 28% of fans know how to appropriately report racist incidents and the figure is actually lower in Arab countries. "The governing bodies, including The FA, UEFA and FIFA, must do more to promote methods of reporting racism and they must listen to supporters' demands," said Lord Ouseley, chairman Kick It Out. "Clubs or countries whose supporters are racially abusive should face harsher sanctions, including points deductions."
We are in 2019, it is unbelievable we are still having debates on sanctions/punishments for racial incidents. Football has so many wonderful things about it but racism MUST be stamped out completely. It is therefore up to everyone involved to put pressure on the powers that be to make a genuine change, and this must start right now.