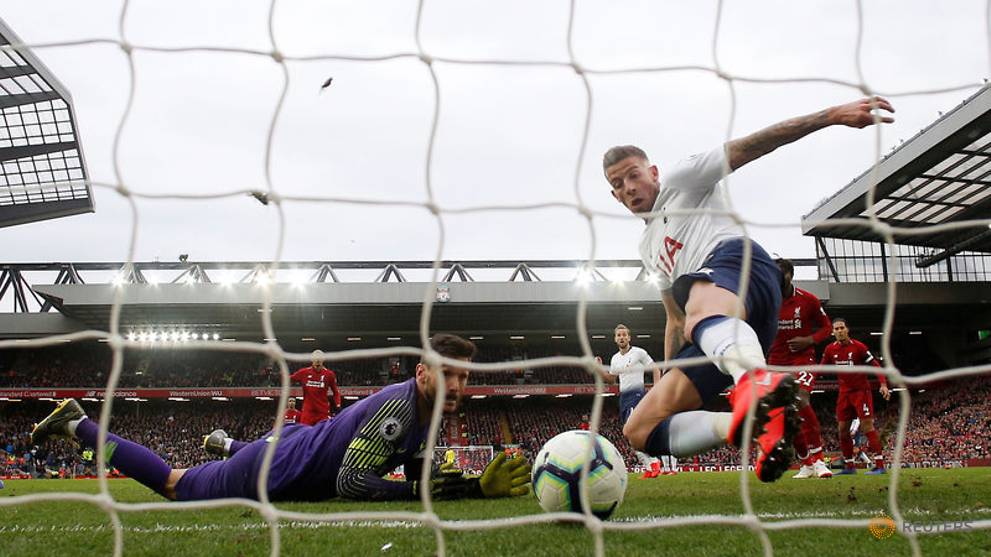 Is it simply luck or sheer willpower? Either way, Liverpool found a way to win arguably their toughest fixture left in the Premier League schedule this season. Toby Alderweireld's late own goal gave Liverpool a priceless victory and put them back on top of the Premier League with six games to go for the Reds and seven to go for Manchester City.
How important might this own goal be for Liverpool in their attempt to win a first league title in 29 years? The Reds seem to find a bit of luck every now and then – it was the same when Jordan Pickford presented Liverpool with a stoppage-time winner during the Merseyside derby. Every team that finishes as champions needs a bit of luck along the way and Liverpool certainly had it yesterday at Anfield. It could have been a different case a few minutes earlier when Moussa Sissoko and Son Heung-min sprung a two-on-one breakaway but Sissoko's shot was wild and high. A draw or defeat for Liverpool on Sunday evening would have handed the Citizens the trophy on a platter as City would have the opportunity to go three or four points clear by winning their game in hand, at home on Wednesday against Cardiff City.
Liverpool manager, Jürgen Klopp admitted his team had won ugly and were fortune to turn a draw into a potentially defining three points with Toby Alderweireld's 90th-minute own goal. It was a game of two halves with the Reds dominating the first stanza while Spurs were the superior side in the second half. Lucas Moura cancelled Roberto Firmino's first half header, only for Hugo Lloris to spill Mohamed Salah's effort on to Alderweireld and give the hosts victory. Klopp described the victory as "rather ugly" but agreed a last-minute winner against arguably Liverpool's toughest remaining opponent this season could have a major impact on the title race. "One-hundred per cent, of course," he said. "If you win 5-0 – and I don't think that would have been possible today – it can lead you on the wrong path. We are all human beings. Nine months ago we started this mission, this ride, and wanted to go for the highest stakes in two competitions. We did it our way. We had to find a way to win games much more often than in the past. Until now it worked. It is all good. "The boys work so hard and if we could be first in the table after the last match of season then it would be a championship of will. We want it. We get used to situations, bit by bit, a bit better. The whole stadium, at 1-1, was the best performance of a Liverpool crowd after an equaliser since I am in. The atmosphere was completely front-footed. I am really happy about the attitude again today."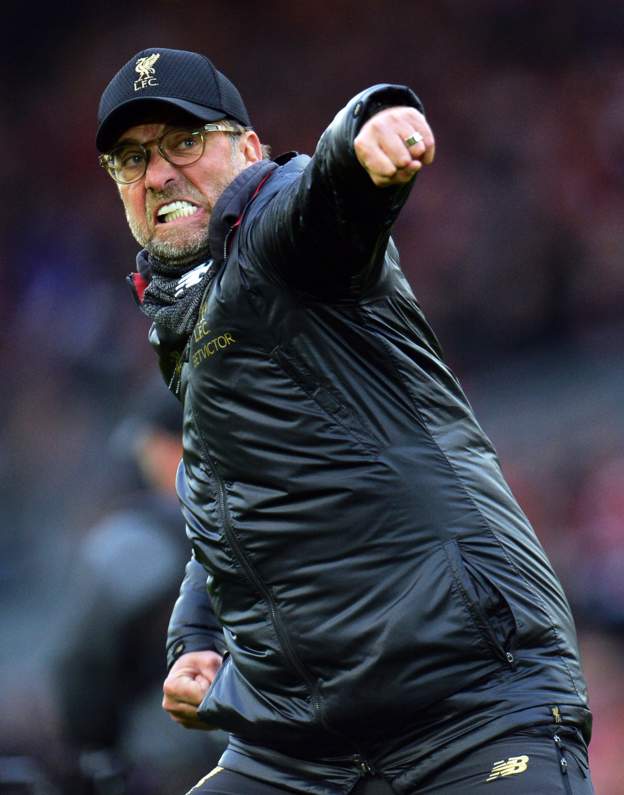 Klopp said it was essential Liverpool maintained momentum to keep the pressure on Manchester City but admitted luck played its part in their 14th home league win of the campaign. "We have seven players in the box and another two on the left wing for the cross," he explained. "That's not a lot left for protection! But that's the risk you have to take. "Of course it was a lucky punch, the header and the ball rolls in, but I told the boys after the game there are 500,000 different ways to win a football game and today was rather ugly. No problem, we take that. Without a bit of luck you cannot be in the position we are in. It's not possible. The boys work so hard, I think they deserve a bit of luck. I am obviously very happy about the result."
Liverpool extended their unbeaten home league run to 37 games (27W, 10D) – the joint-second longest such streak in Premier League history (level with Manchester City), behind only Chelsea's 86-match run between 2004-2008.The Reds point tally of 79 points is their best tally after 32 matches of a top-flight season surpassing the 76 they had in 1987-88.
The Premier League title race is far from over – rather the intrigues and plot will get more exciting. The last time we had a photo finish title race in England was in the 2011/12 season when Manchester City won the title on the final day with perhaps the last kick. City are involved in another dramatic title race; will they have the last laugh or is it time for Jürgen Klopp and the Red Scousers to celebrate a league title after so long?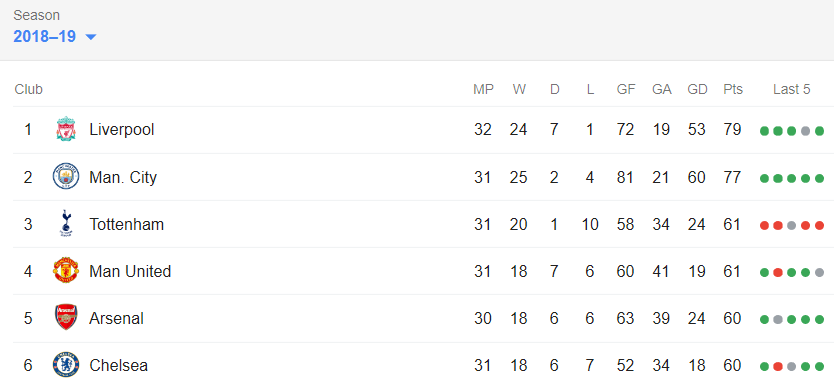 According to Vince Lombardi, Champions make their own luck. Let's see who does this season.