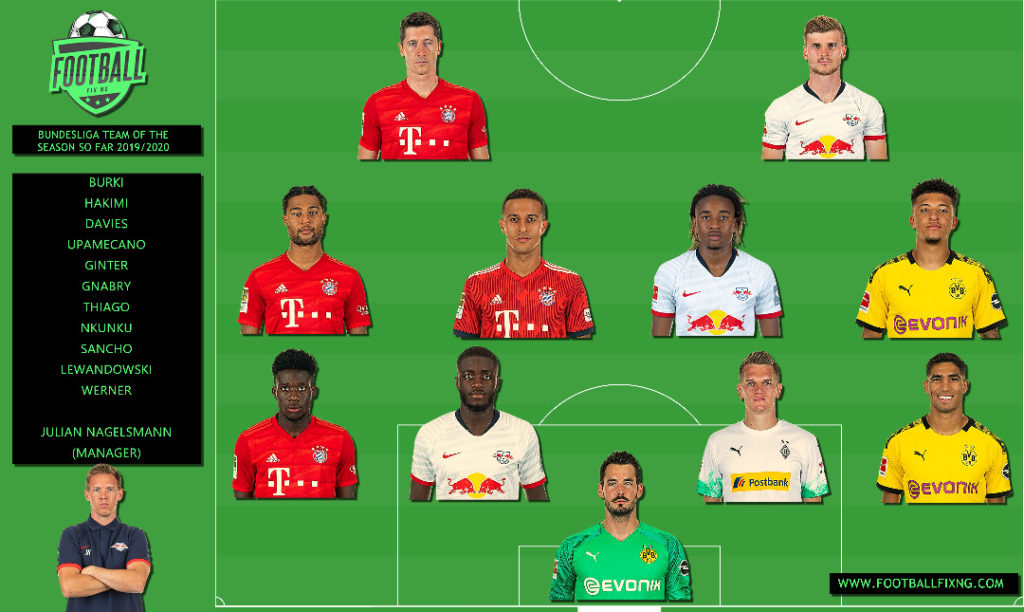 Hello guys, we are continuing the team of year we started some days ago. We published our Ligue 1 team and now it's time to move to Deutschland – the land of the Bundesliga. As usual, I didn't come up with this team alone; a seasoned sports event consultant and pundit on Radio and Television – Adeyemi Adesanya is the brain behind all of it. You can follow him on Twitter @yemiTM442.
Our Bundesliga team is set up in a 4-4-2 system.
Goalkeeper – Roman Bürki. The 29-year-old Swiss goaltender is our choice and he mains the sticks for Borussia Dortmund. In spite of his team's inconsistency in the league, Roman has kept Lucien Favre's team in the mix at the upper end of the table with his heroics in goal. His poor defense hasn't helped in keeping his clean sheet numbers up which stands at eight in 22 games but his save per game ratio of 52.2%.
Full Back, Left – Alphonso Davies. Anyone who can challenge or dislodge David Alaba from his natural habitat – full back deserves a look in. Davies has made 17 league starts this season, winning 55.3% of duels contested and his pass completion ratio makes him an asset to Bayern Munich in attack where he has chipped in four assists and a goal. This guy is only 19 and it feels like Bayern have unearth another gem.
Full Back, Right – Achraf Hakimi. The Real Madrid loanee has grown in leaps and bounds since he arrived in Dortmund last season and he is proving his quality his season. Looking at the assists log in the Bundesliga and you will find Hakimi in the top five assist providers this season and he happens to be the only defender in this fine group filled with attacking players. The Moroccan international is a mainstay in Favre's team playing all league matches until the break and his contribution to his team is phenomenal.
Defense, Left Centre – Dayot Upamecano. RB Leipzig share the best defensive record in the league with mighty Bayern and Dayot's contribution to RBL backline has been significant. The 21-year-old French man is having a stellar season marshalling his tema's defense. For someone of his age, his composure and ability to read the game is mile ahead of his age. His passing range and abilities make him a ball-playing central defender. No wonder Real Madrid have their eyes on him.
Defense, Right Centre – Matthias Ginter. The German World Cup winner might have an unassuming personality but he is one of the best in his business. It should surprise no one that Jogi Loew saw these qualities in him when he named him as the youngest member of the victorious World Cup team. Matthias is intelligent on and off the ball, committing only nine fouls in 22 league games for Borussia Mönchengladbach this season. The foundation for Marco Rose's attracting football is down to the intelligence and leadership of Matthias.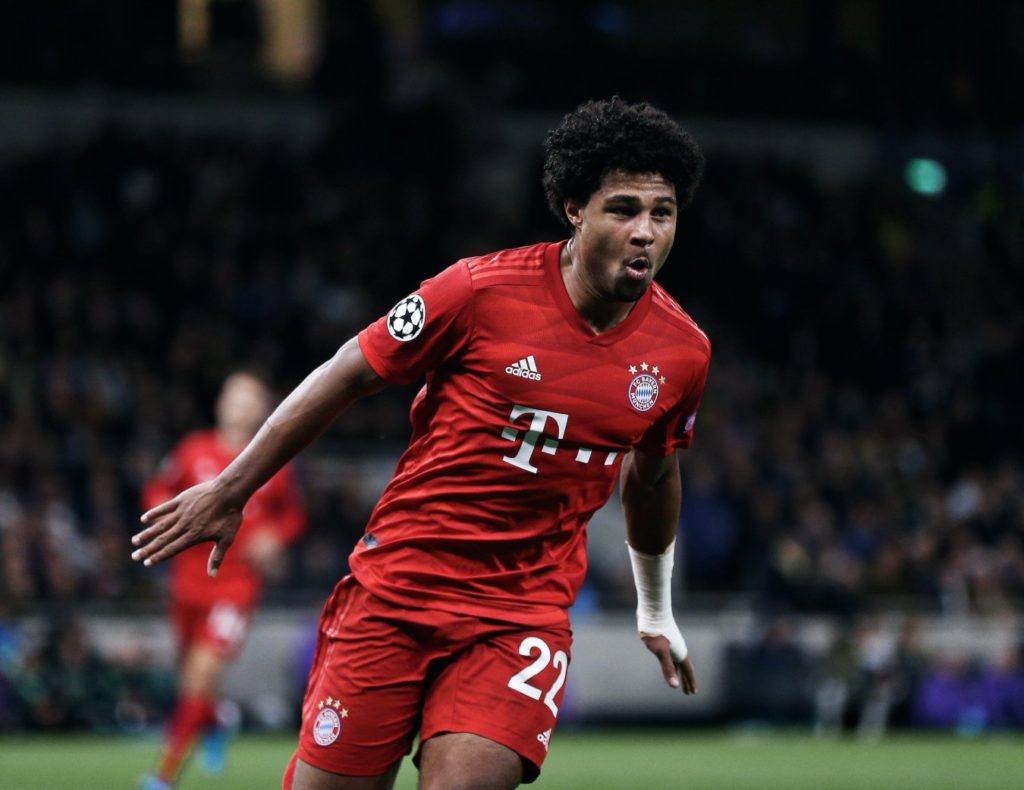 Left Midfield – Serge Gnabry. The resurgence of Serge Gnabry from Premier League failure to Bundesliga giant has been a true revelation since last season. The German international has become key figure in the Bayern revolution, and a mature footballer three years after permanently leaving Arsenal. 11 goals and nine assists in 23 Bundesliga games sees Gnabry take the left side of our midfield where he is expected to dazzle.
Right Midfield – Jadon Sancho. Whatever Gnabry can produce on the left, Sancho can replicate on the right or even give more. The Dortmund winger has shown the world in the current campaign that he is an elite footballer with his contribution for BVB. The former Manchester City trainee has scored 14 times in the league and provided 15 goals for his teammates. He is an invaluable member of Lucien Favre's team and is definitely one of the best wingers in Germany right now if not the best.
Central Midfield – Thiago Alcântara. The Spanish international versatility in the middle of the park makes him an admired player by many coaches. His passing ability (91.2% completed) and technique, ability to dictate the tempo of the game like Xavi Hernandez puts him head above his contemporaries. Thiago has featured 22 times for Bayern in the league this season and he is an important component of Hans-Dieter Flick team.
Central Midfield – Christopher Nkunku. The 22-year-old French footballer is enjoying a stellar campaign in his debut season in the Bundesliga. Nkunku has been the driving force in the middle of the park for Julian Nagelsmann Leipzig team. The former PSG midfield man has four goals and 12 assists in 23 appearances in the league. With an 87.9% pass completion stat, he is a perfect fit alongside Thiago in the middle.
Attack – Robert Lewandowski. 25 league goals in 23 league appearance should tell you why the Polish national team captain will make our team. The argument being made, is Lewandowski the best striker or number nine in the world right now? This man is a scoring machine; in six seasons in Bavaria, he has 153 goals in 182 Bundesliga games for Bayern. Lewy has scored 34.2% of the league leaders goals this season and is without a doubt deserving of a place in our team.
Attack – Timo Werner. RBL striker is second on the top-scorers chart behind Robert Lewandowski with 21 league goals but that isn't the reason why he is lining up next to him. The German international is more than just his goals for his team. He has laid on seven for his team mates and continues to provide leadership for the team in attack. He is enjoying his best season in the Bundesliga and as equalled his best return of 21 goals with nine games left to play. RBL are not a one-man team but Timo is an integral member.
Fußballtrainer – Julian Nagelsmann. 32-year-old Nagelsmann is the man who gets to lead this team. The youngest coach in the division has proven his mettle since his days at Hoffenheim and his stock continues to rise after joining RB Leipzig. The East Germany team are in the race for their first Bundesliga title and has led his team to the last eight of the Champions League knocking legendary Jose Mourinho. Nagelsmann likes to press high up the pitch and favours an attacking style. His teams play dynamic, direct, passing football, and tend to be good at forging out chances. With this team, there is no better coach to get the best out of them.
This is our Bundesliga team of the season so far. Feel free to disagree with Yemi and I, do not hesitate to use the comment section beneath to put in another player you feel deserves a place in the team.