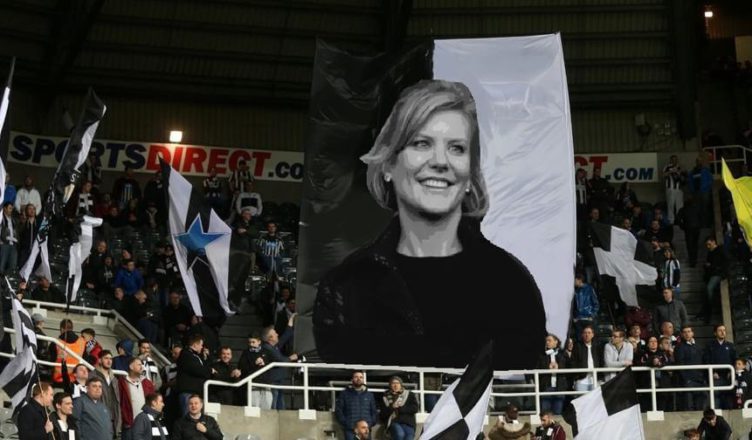 For the Magpies, yesterday's takeover news is probably the best piece of information many have waited for in years. A document showing current owner Mike Ashley has entering into a charge agreement with potential buyer Amanda Staveley. Staveley is leading a bid which involves Saudi Arabia's sovereign wealth fund and the Reuben Brothers in the deal worth £300m.
The business tycoon's 13-year ownership of the Tyneside club is close to an end, with the Public Investment Fund of Saudi Arabia led by Crown Prince Mohammed bin Salman taking an 80 percent stake. The group, assembled by financier Amanda Staveley, and also including the mega-rich Reuben brothers (10 percent), will now have their credentials examined by the Premier League. A deal could be finalised in a month, before football's lockdown ends.
The buyers lodged documents with Companies House on Tuesday proving a sale is progressing fast. Ashley who bought Newcastle for £133m in 2007, and has a £110m interest free loan helping finance the club. He has run the club's business affairs in a cautious way leading to a healthy balance sheet. But Newcastle United's performance on the pitch, including two relegations, has seen the club fallen behind the elite, as has off-field business income.
Ashley started his reign as owner of the biggest club in the North East with several questionable decisions that irked the fans. Sam Allardyce was his first managerial casualty but was subsequently replaced by a club legend – Kevin Keegan. The decision to appoint the former England boss was welcomed and it endeared him with the club supporters. He was seen buying drinks at Toon pubs and pictured drinking on the terraces wearing a replica shirt but like with all his actions, they are not what they seem to be. Eight months down the line, Keegan walks away from his beloved Newcastle after disputes over transfers with Director of Football Dennis Wise. Poor boardroom decisions in 2008-09 season saw the club relegated with four different managers in charge at some point in a calamitous season. Newcastle returned to the Premier League one year after with Chris Hughton and he was doing a decent job but was controversially fired. Alan Pardew, his successor turned out to be a miracle working man who led the club to fifth position – the best finish since Sir Bobby Robson era. Pardew walked out on the club later on, Steve McClaren had an unsuccessful spell but the best decision of Ashley's reign was convincing and appointing Rafa Benitez – the Champions League winning coach couldn't prevent relegation in the 2015-16 season, but gained immediate promotion and rebuilt the club. Once again, the club's lack of ambition frustrated the Spanish manager who walked out on the club at the end of his contract with his long-term vision thwarted. Steve Bruce is the current boss doing a decent job but he is definitely not in the elite class of managers. The Toon Army faithful have endured a torrid period under Mike Ashley's leadership just like the tail end of Freddy Shepherd's chairmanship. For a club that was transformed into a genuine European campaigner and more under Sir Bobby, it has been a disaster seeing themselves struggle at the bottom half of the table as they have done in recent years.
From a football point of view, Newcastle United have been a shell of what the club used to be or is meant to represent in the North East but from a financial position, whoever does buy Newcastle United is getting a club in a better state financially than when Ashley took over in 2007. This means the new owners can focus on building the club and improving its fortunes on the pitch which in turn can increase financial revenue.
Whatever the case is, Ashley and Newcastle United fans union has been a marriage where both parties seem to always want out. If both parties get their wishes, it could truly be a new dawn for the congregation at St. James Park.