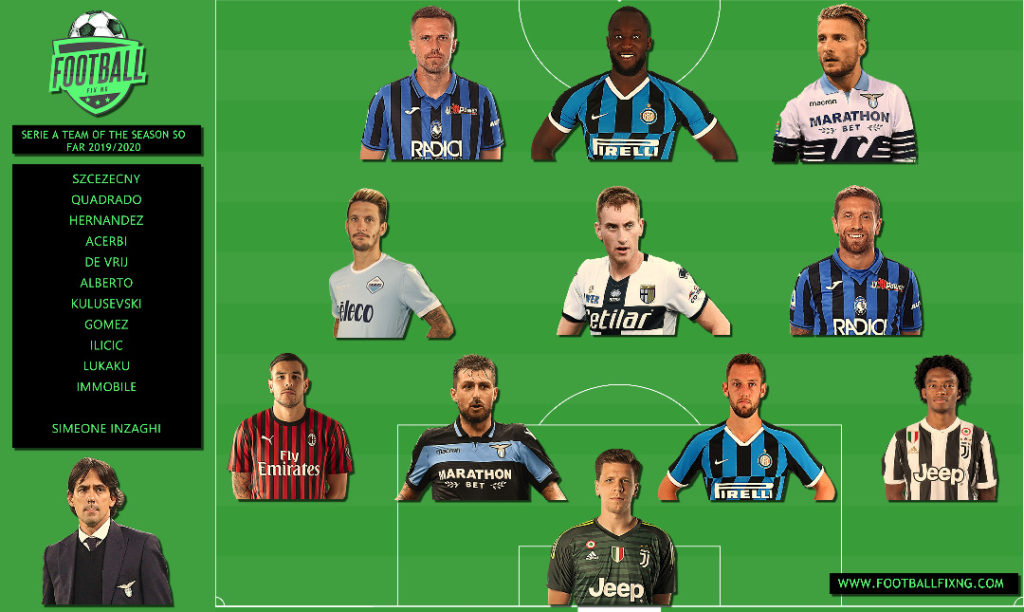 Hello guys, we are continuing the team of year we started some days ago. We have published our Ligue 1 and Bundesliga teams; it is time to move over to the Italian peninsula – the home of the Calcio. It has been a season of surprises; Napoli struggling, AC Milan with their yearly rebuilding project collapsing before it gets started and Antonio Conte returning to the Serie A and pushing Inter into title contenders spot but it is Lazio going toe-to-toe with Juve before the suspension of the league. As usual, I didn't come up with this team alone; a seasoned sports event consultant and pundit on Radio and Television – Adeyemi Adesanya is the brain behind all of it. You can follow him on Twitter @yemiTM442.
Our Serie A team is set up in a 4-3-3 system.
Goalkeeper – Wojciech Szczęsny. The Juventus goaltender is our pick for the man in between the sticks. He has one of the best save percentage (84.6%) in the league despite featuring in just 19 league matches though to the rotation policy. The Polish international transmits calm and confidence in goal, one of the reasons why he can keep legendary Gigi Buffon out of the Starting XI.
Full Back, Left – Theo Hernandez. The former Real Madrid full back is one of the few bright sparks in another colourless season for the Rossoneri. From his attacking full back position, the French man has scored five goals and provided two assists for his team. Since his arrival at Milan's Centro Sportivo Milanello, he has impressed and made the left back his own spot.
Full Back, Right – Juan Cuadrado. The Colombian international has established himself as first choice right back this season under Maurizio Sarri. The former Fiorentina player has played 1,838 minutes of league football and contributed with his offensive runs on the right. Cuadrado's intelligent runs, work rate and abilities put him above his challengers for this spot.
Defense, Left Centre – Francesco Acerbi. The experience Italian defender is one of the unsung heroes in the Lazio team challenging for the Scudetto this season. Acerbi's game is built on his intelligence and accurate reading of the game. He has played 24 times in the league this season amassing over 2,100 minutes but has received just four yellow cards. Lazio operate a three-man defense with Acerbi as the brain behind it all.
Defense, Right Centre – Stefan de Vrij. There is a reason Stefan is the guy leading Inter defense despite having an experienced head like Diego Godin in the mix. The Dutchman is one of the most intelligent and commanding centre halves in Europe. His reading of the game is top-notch, no wonder he has laid on three goals for his team despite being in the heart of defense. He is a silent worker, an integral player for Conte at the back and makes up for his teammate's errors.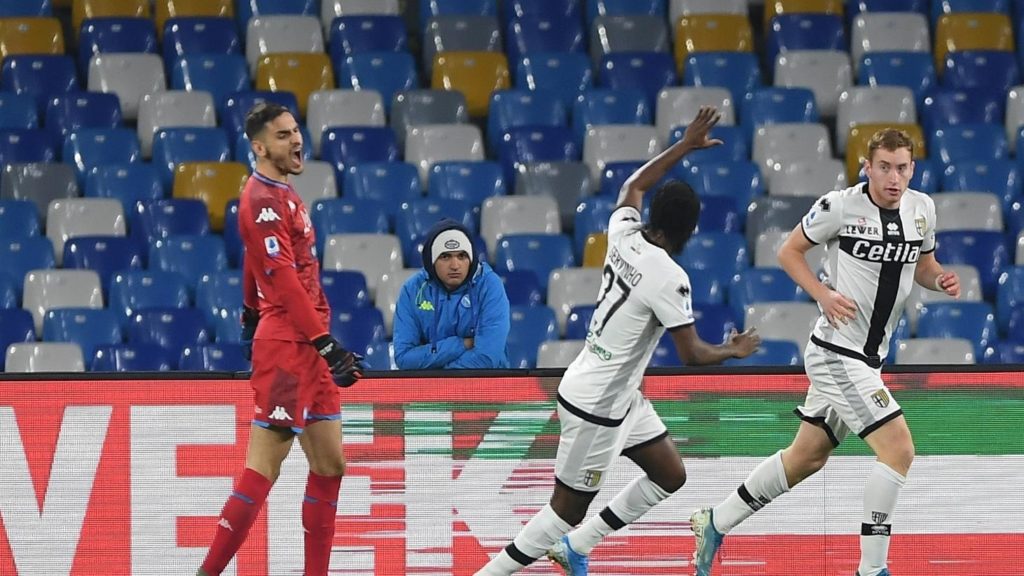 Left Central Midfield – Luis Alberto. The Spanish midfielder is enjoying a fine season in midfield for Lazio – this isn't his best ever but definitely running close to his 2017-18 season. Luis is the creative thinker in Le Aquile's midfield, his guile and control is elegant with a productive end. He has scored four times in the league but has created three times that number for his team. We cannot talk about Lazio run without highlighting Luis Alberto's contribution.
Right Central Midfield – Papu Gómez. The magical one – Papu continues to light up the league with his mercurial displays under the guidance of Gian Piero Gasperini. Just like Lazio, Atalanta is another team that you'd love to watch every weekend in the Calcio with Papu leading La Dea. The Bergamo side isn't a one-man team but their magical number 10 is an instrumental piece of their puzzle. He has scored six goals and provided 10 but Papu is beyond numbers and stats, he is arguably the best in his position in the league.
Holding Midfield – Dejan Kulusevski. There has to be something special about you as a 19-year-old for Juventus to shell out €35 million in the January winter transfer for your services. The one-cap Swedish international has been a revelation at Parma where he is on-loan. Dejan is a box-to-box midfielder who has strength, stamina, speed and a good passing range but perhaps his best weapon is a lethal change of pace which can leave opponents for dead. Five goals and seven assists in 23 league starts for a teenager in his first full season in the Serie A is enough for us to select him as the man for the job.
Left Attack – Josip Ilicic. The 32-year-old Atalanta forward is enjoying another stellar campaign. Throughout his career, his talent was never in doubt but injuries didn't allow him flourish. Better late than never for Josip who seem to have his magic wand laced at his feet every time he steps on the field. 21 goals and nine assists in 29 games for Atalanta in all competition is a massive return. You bet no one out there deserves his place in this team more.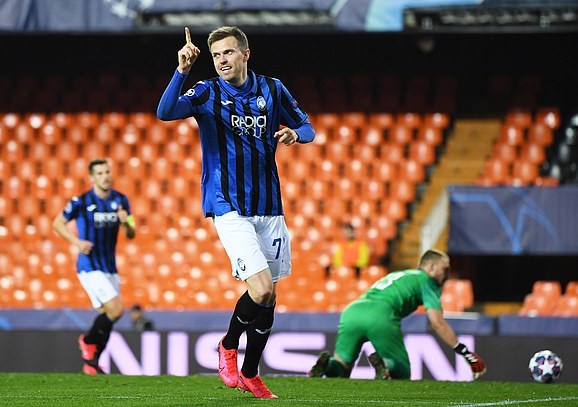 Right Attack – Ciro Immobile. He has an average of one league goal per game this season as he leads the Capocannoniere race this season. Ciro has been in supreme form with a return of 30 in 33 appearances for Lazio with his goals a crucial factor in Simone Inzaghi's team push for the Scudetto title. Since he arrived the Eternal city in the summer of 2016, the Azzurri has scored ton of goals including scoring 45% of his team's league goals this campaign. He deserves his place in our team.
Centre Forward – Romelu Lukaku. The Belgian striker pipped Cristiano Ronaldo to the top striker role despite the Portuguese legend scoring more than him in the league. Here is the thing, Lukaku is in his first season in the Serie A following a difficult campaign last season with Manchester United. With Ilicic technical qualities and Immobile's pace, Lukaku's strength and power will compliment the attack very well.
Mister – Simone Inzaghi. The Lazio boss didn't have the remarkable playing career his older brother had in the game but he appears to have refined himself into one of the finest trainers in Italy. His team build-up play is not really methodical but he has shown tactical astuteness to model his team around the strength of his players to give him the required result. It is still on long shot for Lazio to win the Scudetto but with the resources available, Inzaghi has proven that he is the man to lead the Serie A best XI.
This is our Serie A team of the season so far. Feel free to disagree with Yemi and I, do not hesitate to use the comment section beneath to put in another player you feel deserves a place in the team.