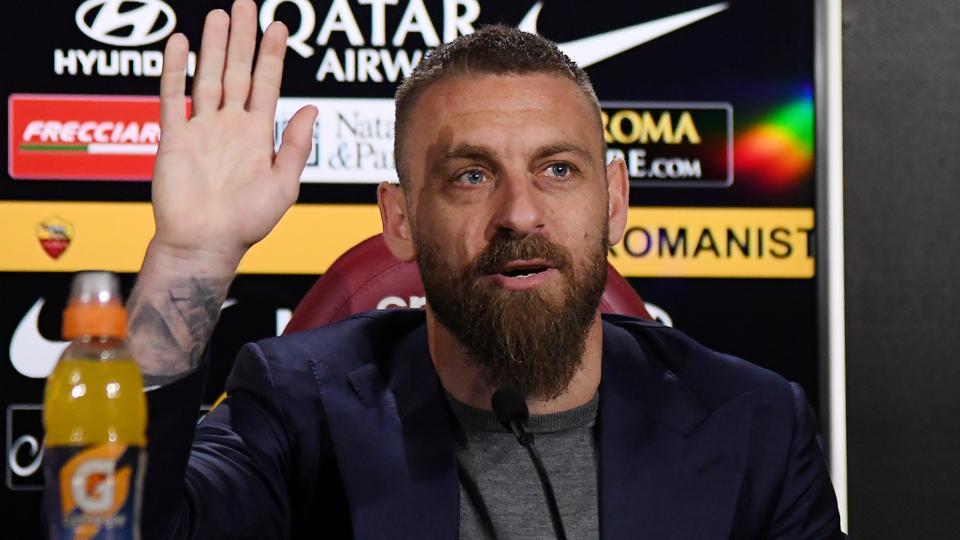 Every beginning has an end and every end has a new beginning is a familiar and famous quote by Santosh Kalwar. AS Roma confirmed yesterday that their skipper Daniele De Rossi's 18-year playing career with the club will come to an end this summer when his contract expires. For almost two decades, the Giallorossi stalwart has defended his beloved club on pitch but will have now have to continue doing so from the stands at the Olimpico.
The Roman soldier joined the Serie A giants in 2000 from his hometown club Ostia Mare, has made 615 appearances and scored 63 goals to date for the Giallorossi in all competitions, putting him second on the club's list of all-time leading appearance-makers. Daniele has been a dominant presence in the heart of midfield for nearly two decades; he inherited the club captaincy from another Giallorossi icon, Francesco Totti – the one player ahead of him in Roma's list of appearance-makers – in 2017. He is regarded as one of the best midfielders in the world during his prime, referred to as a "complete midfielder" because of his tackling, vision, awareness, passing range, strength, energy, and goal-scoring ability, which enable him to start counter-attacks or make attacking runs to advance into offensive positions after winning back possession. Approaching 36 years old, he is no longer quick, physical, but still tenacious player, with good technique and an excellent ability to read the game. He has occasionally been criticised, however, for his aggression and tendency to pick up cautions unnecessarily. De Rossi's ability to break down opposition plays and his adeptness at the box-to-box style of midfield play led pundits to compare him to other world class box-to-box midfielders, such as Frank Lampard and Steven Gerrard, players whom De Rossi greatly admires. He is considered to be one of the greatest Italian midfielders of his generation and of all time by pundits and managers.
Just two years after losing the most adored in the club – majestic Francesco Totti, Romanismo is losing another icon. The club's all-time leading goal scorer and appearance-maker (Totti) ended his after a 25-year love story with the club in 2017 as his magical powers diminished. This unique club is losing another soul of it and appears the player isn't leaving entirely on his own terms. The club seems to have regressed following last season Champions League semi-finals run – the sale and inadequate replacement of Alisson Becker and Radja Nainggolan, sporting director Monchi left the club and coach Eusebio Di Francesco was fired in March. With these huge departures and turmoil surrounding the club, it is a bit astonishing that the club is willing to dispense off a priceless asset whose experience would be helpful for the new coach employed.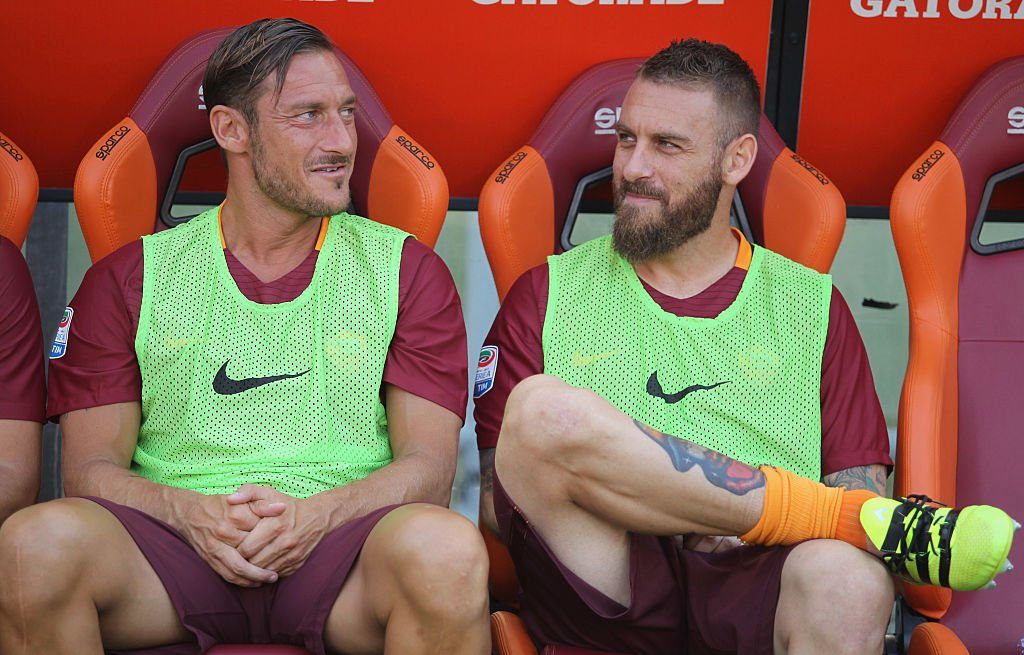 "I don't agree that the decision should have been mine alone," De Rossi admitted. "The club exists to make these sorts of decision, alongside the coaches. Someone has to make that ultimate call. "I realised the decision the club was going to take regarding myself. I'm almost 36 and I know how football is, but I didn't want to distract from our European race. I thank the directors for their offer (to become a club director) – I respect it and appreciate it, but I still feel like a player."
Roma legend Francesco Totti didn't let the moment pass him by as he posted an emotional tribute to the man that succeeded him as club captain, Daniele De Rossi – as the midfielder's departure from the club was confirmed.
"Today is a sad day. Today sees the end of another important chapter in the history of AS Roma – but especially of the city of Rome, our Rome. Over the years we have experienced so much together – we grew up together, becoming first men, then footballers, and then fathers too. But we always knew that this moment would arrive eventually. I would simply like to say that you will always be my brother on the pitch. I wish you the best in everything you go on to do – because I am sure you will do it brilliantly, like everything you have done so far. I love you, Dani."
At club level De Rossi won the Coppa Italia twice, in 2007 and 2008, along with one Supercoppa in 2007. De Rossi's final home game for the club will be against Parma on Sunday, 26 May. "We will all shed tears when he pulls on the Giallorossi shirt for the last time against Parma but we respect his desire to prolong his playing career – even if, at almost 36, it will be away from Rome," said Roma president Jim Pallotta. The Romanistas need not worry; even a broken soul or life will one day come to an end. Right now, It isn't the end for Roma or De Rossi, it is just the end of a playing career for an adored fan at his beloved club.
You can predict and win big by visiting our Sports shop Babaijebu.ng for mouthwatering offers in the Serie A week 37 league matches this weekend.