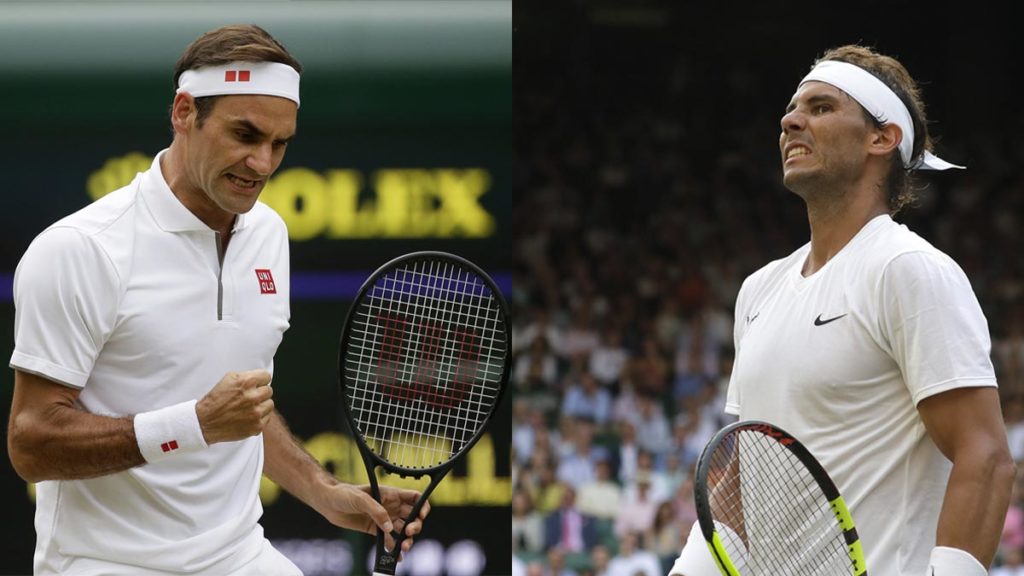 With 38 majors between two tennis icons whose combine ages are 70, what should we expect at the All England club tomorrow? World number two Rafael Nadal is targeting a place in the finals at Wimbledon for the first time since 2011 when he lost his title to Novak Djokovic. His opposite number, the number two seed for the tournament Roger Federer is bidding for a ninth title. He won his 100th match at Wimbledon in his quarter final victory over Japan's Kei Nishikori.; he became the first male player to win 100 singles matches at one major in the Open Era. To appreciate what Roger Federer has achieved in Wimbledon, we take a look at those who have come close. Jimmy Connors has 98 wins at the US Open, followed by Federer's 97 victories at the Australian Open while Nadal at the French Open with 93.
Make no mistake, this is tennis greatest rivalry. It is probably as glamorous as Real Madrid and Barcelona El Clasico rivalry and we anticipate a great spectacle on Friday. The last meeting between these two is barely five weeks old in the semis of the French Open where Nadal brushed aside Federer in straight sets. Their last meeting at Wimbledon was 11 years ago in the 2008 final, Nadal beat Federer 6-4 6-4 6-7 (5-7) 6-7 (8-10) 9-7 in a rain-affected final that lasted over five hours – a five-set match which was widely acclaimed as the greatest match of all time. Together, they have won 10 Wimbledon titles between them. Nadal leads in the overall head-to-head meeting 24-15, but Federer has won five of the last six played. It is not in doubt that Rafa is the king of clay while grass is the preferred surface for Federer and of course, the crowd in London cheering him more than any rival.
This is the 40th Fedal meeting; it is a fight for a place in the final to face either top seed Novak Djokovic or Roberto Bautista Agut. Both players have barely dropped sets in their five matches at the tournament so far. Federer dropped two sets but ended up winning both matches while Nadal dropped a single set. Taking a look at both players history at the tournament, Rafa Nadal has competed in 13 seasons with a win ratio of 81% and two titles to his name. He has lost in the finals thrice, been eliminated in the semi-finals once, twice in the four round, once in third, three times in the second and once in the first round in 2013. On the other side, Roger Federer is competing in his 21st season at Wimbledon. He has a win ratio of 89%, eight titles, he has been a losing finalist on three occasions, been knocked out in the semi-finals once, eliminated in the quarter finals four times, second round once and first round thrice.
On current form, both men are at or near the top of their games which makes it difficult to call. Nadal has been the surprise package between both men on grass considering his recent performances on the surface. This is Nadal's second consecutive semifinal appearance at Wimbledon after having failed to get past the fourth round on his last five appearances. 'He has improved so much over the years on this surface. He's playing also very different than he used to. Haven't played each other in a long, long time on this surface. He's serving way different. I remember back in the day how he used to serve, and now how much bigger he's serving, how much faster he finishes points,' Federer said.
Who will win this epic battle? It is 50/50 at start of the game. It will likely be determined by who serves better and who wins a higher percentage of second-serve points.
Who is your pick to win this classic?