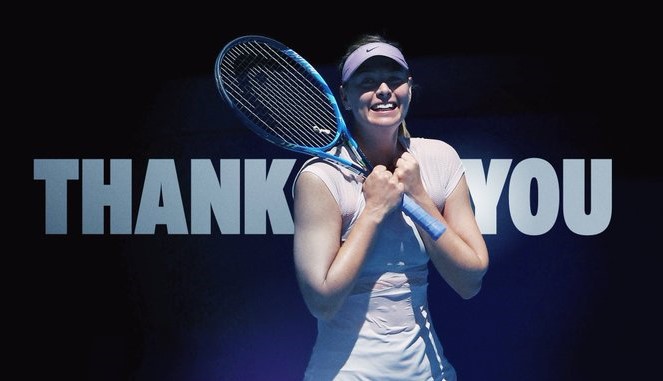 Last Wednesday, in an emotional essay on vogue.com and vanityfair.com, she announced her decision to quit after an illustrious career that saw her win five Grand Slam titles.
"How do you leave behind the only life you've ever known?," wrote Sharapova. "How do you walk away from the courts you've trained on since you were a little girl, the game that you love—one which brought you untold tears and unspeakable joys – a sport where you found a family, along with fans who rallied behind you for more than 28 years? "I'm new to this, so please forgive me. Tennis—I'm saying goodbye," Sharapova wrote.
The 32-year-old became a household name at 17, when she defeated Serena Williams in the Wimbledon final. It would be one of just two victories the Russian would earn over the American—the other also coming in 2004, at the WTA Championships. In one of the tennis' most famous "anti-rivalries," Williams won 20 of their matches, the most recent a 6-1, 6-1 first-rounder at last year's US Open. Sharapova battled a shoulder injury for most of 2019, a season in which she reached just one quarterfinal. The former No. 1 ended the year ranked No. 145, and lost matches to Jennifer Brady in Brisbane and Donna Vekic at the Australian Open, before calling it a career. She is currently ranked No. 373.
Looking back and through her career; we cannot overstate what the Russian star brought to the game even amid controversies.
Maria played her first pro tournament on her 14th birthday at an ITF in Sarasota, USA on April 19 2001, while she went on to make her WTA debut the following year in Indian Wells as a wildcard, beating Brie Rippner in the opening round before going down to nine-time major champion Monica Seles. It didn't take long for Sharapova to announce herself on the WTA Tour after her debut, with the Russian making the fourth round of Wimbledon – earning a maiden top 20 win over Jelena Dokic – before capturing her first WTA title at the Japan Open. Sharapova also went on to win a second WTA crown in Quebec City, receiving the WTA Newcomer of the Year award for her explosive impact. Then her first Grand Slam; Sharapova completed one of the most memorable Grand Slam title runs in history at Wimbledon, conquering defending champion Serena Williams as a 17-year-old, becoming the third youngest champion in All England Club history. In 2005, Sharapova lost to the eventual champion at every Grand Slam, but she did become the first Russian woman to hit the No. 1 ranking on August 22, usurping Lindsay Davenport and holding it for a total of seven weeks. She secured three titles in Tokyo, Doha and Birmingham and was a semi-finalist at the Australian Open, Wimbledon, U.S. Open and WTA Finals. The following year in 2006, she went on 19-match winning streak that yielded a second Grand Slam title at the U.S. Open, where she beat Amelie Mauresmo and Justine Henin. In 2008, injuries started to set in, she revealed dealing with a rotator cuff tear since April, subsequently undergoing surgery in August and missing the remainder of the year. She didn't start 2009 early as she was recovering from surgery; Sharapova only started her season in May and understandably found it tough to recapture her best tennis for much of the next two years, only making one Grand Slam quarter-final during this period as her ranking plummeted to No. 126 at its lowest point.

After some challenging years with injury and loss of form, Sharapova experienced arguably the finest moment of her career in 2012, completing the Career Grand Slam when she won the French Open title over Sara Errani. That triumph also propelled her back to the World No. 1 ranking. However, just as she returned to the top of the world, Sharapova was sent crashing back down to earth, suffering her heaviest every defeat to Serena in the London Olympics final (6-0 6-1), while she then lost the No. 1 ranking after suffering an upset defeat to Sabine Lisicki in the fourth round of Wimbledon. Sharapova was ultimately unable to regain the No. 1 ranking for the remainder of the career, losing to Serena for the 13th straight time in the WTA Finals title match, meaning Victoria Azarenka held on to the top spot at season's end. 2015 was her last Slam final, Sharapova's losing record to Serena slumped to 2-17 as she suffered another heartbreaking loss in the Australian Open final. In 2016, Maria was convicted of doping after testing positive to meldonium – it was one of the biggest scandals in tennis history. She served a 15-month ban and Sharapova made her return to tennis in April 2017 at the Porsche Tennis Grand Prix in Stuttgart. After her return, she struggled to get back to her very best; broke into the top 100 after starting unranked in April and won her first title since 2015 at a low-level tournament in Tianjin. Unfortunately, her shoulder problems which had plagued her for years resurfaced from 2018 till she quit. She was awarded a wildcard into the Australian Open, Sharapova suffered her third first round Grand Slam exit in a row when she lost to Donna Vekic. That match would ultimately be the last of her career.
Sharapova compiled a 645-171 singles record that included 36 titles. "Tennis showed me the world — and it showed me what I was made of. It's how I tested myself and how I measured my growth," Sharapova tweeted Wednesday. "And so in whatever I might choose for my next chapter, my next mountain, I'll still be pushing. I'll still be climbing. I'll still be growing."