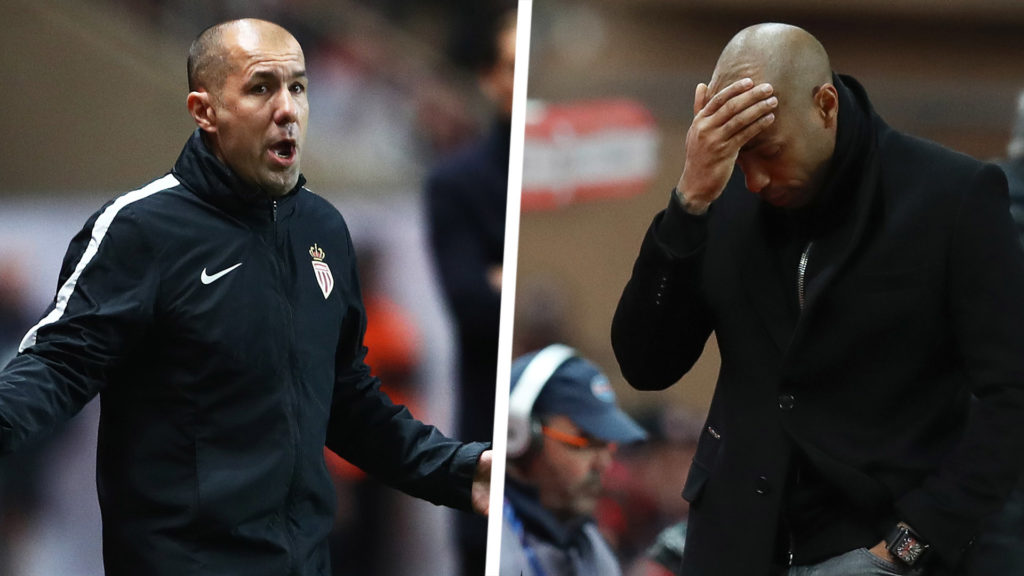 When the Principality club prevented Paris Saint-Germain from winning their fifth consecutive Ligue 1 title in 2017 by securing their first title in 17 years, coupled with reaching the final of Coupe de la Ligue and the semi-finals of Coupe de France and the Champions League, it was acknowledged as a breath of fresh air in the French league. Two and half seasons after the historic Ligue 1 crown, AS Monaco are staring down the barrel of relegation to Ligue 2.
This current campaign has been marred with its fair share of challenges for Les Monégasques. The 2017 French champions have had off-field problems regarding their owner (Russian billionaire Dmitry Rybolovlev) who was charged by Monaco prosecutors in relation to a probe into corruption, an endless list of injured senior players, change of manager twice in one campaign and sacking of their Sporting Director.
Michael Emenalo joined Monaco in November 2017 as Sporting Director to take charge of all sporting matter. He was appointed to help with unearthing new talents that would be developed as the team mount another competitive challenge against financial powerhouse PSG in France. He joined the Principality having left his previous post at Chelsea. Unfortunately, the former Nigerian international did not cut it, he fell out with the club's vice president Vadim Vasilyev. The Russian was not convinced by his signings, including Cesc Fabregas, Nacer Chadli, Naldo and Fode Ballo-Toure that were brought in this season. Furthermore, his frosty relationship with Leonardo Jardim, the reappointed coach meant Emenalo had to leave.
Thierry Henry signed a three year deal in October 2018 to replace departed Leonardo Jardim who left the club by mutual consent. Monaco's glorious money-spinning project which looked capable of challenging Europe's elite was undergoing too many changes in a short period to leave the Portuguese weak and spineless. Henry arrived at the time his former club with a huge reputation. He was the jolt needed at the club, the new lift and his knowledge of the club as a former player coupled with coaching apprenticeship under Roberto Martinez made him a decent option regardless that it was his first step in management. Monaco took a gamble but it only lasted for 104 days. The former Barcelona striker was fired less than four months into his reign; though he inherited a depleted squad, his negative tactics and immature man-management did not help his case. The total number of injuries at the club did not work in his favor with more than a dozen first-team players were unavailable at various times. Henry was also held back by his own inconsistencies and juvenile attitude. He did not show proper leadership, neither did he exhibit the maturity required as the manager of his team. His final straw was him telling opposition player, Kenny Lala "his grandmother's a whore."
Last Friday Monaco reappointed Portuguese coach Leonardo Jardim on a two-and-a-half-year contract. The new Monaco boss Leonardo Jardim said that 'at this difficult time I couldn't say no' to returning and trying to save the club from relegation. "I'm starting from scratch," Jardim said. "We forget what happened. The goal is to take stock, to make the necessary changes quickly to reach our objectives. "We talk a lot about the method, but football is more complex than that. Football is the quality of the players, the group, the relationships and the attitude. In our situation, we need mentally strong players ready to work hard." Jardim hinted at making some moves before the January transfer window closes, saying, "I think it's possible to achieve our objectives if we make some changes as soon as possible in this market, but also with the players who are here."
Monaco have gone full cycle in this circus and need a new start. The situation at the club looks really bad but there is still time to remediate and keep their Ligue 1 status. Dimitri Rybolovlev and Vadim Vasilyev have made some mistakes including the big error of sacking Jardim, paying him an €8m severance payment only to reappoint him just three months later while paying off his now predecessor a hefty severance package of between €10 and €15m. A new Sporting Director will be joining as well to replace departed Emenalo. It's a new dawn at Training Center La Turbie for the players and coaches with Jardim taking his second bow as manager on Tuesday night in the semi-finals of Coupe de la Ligue at Stade de Roudourou against Guingamp.