For Baba Ijebu lovers, the days of queuing at the lotto shops are over.
All you have to do is fund your account online and wait for Baba Ijebu to pay you your dough… then withdraw your winnings from the comforts of your home.
So, let's delve right in…
 How To Fund Your Babaijebu.ng Account Wallet
Your babaijebu.ng account can be funded by either Bank transfer or Card deposit.
 Funding Your Babaijebu.ng Account Using Bank Transfer
Step 1: Log into babaijebu.ng
Step 2: At the top right side of your screen – Select cash and click on deposit.

Step 3: Click on the drop-down arrow to view the details of your preferred bank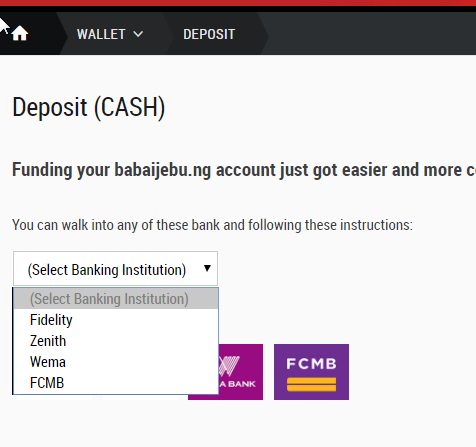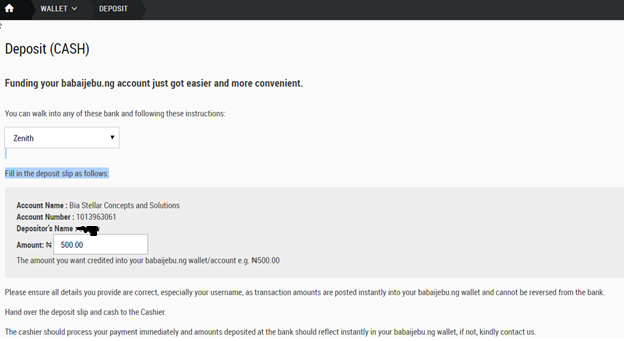 Step 4: Copy out the account information and make your transfer.
Note: For transfers, the receipt of payment should be sent to [email protected] for payment confirmation. Once your payment is confirmed your cash wallet will be credited. The narration/description for the transaction should be your username.
For cash deposit, the customer's babaijebu.ng account is credited automatically.
Funding Your Online Account Using Card (Mastercard Only)
Step 1: Log into your babaijebu.ng.
Step 2: At the top right hand of your screen, Select Card and click on deposit.

Step 3: Input the amount you want to deposit
Step 4: Click continue to Payment (Use promotional code if given. The codes are available when there is an ongoing promotion)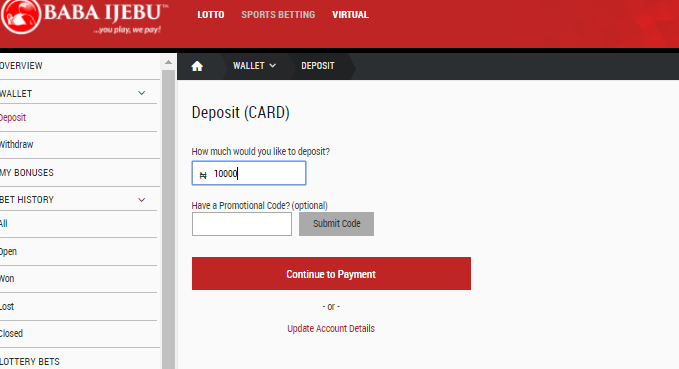 Step 5: Input your card number (16 digits number in front of your card), Card name, expiration date and billing address, then click on Next.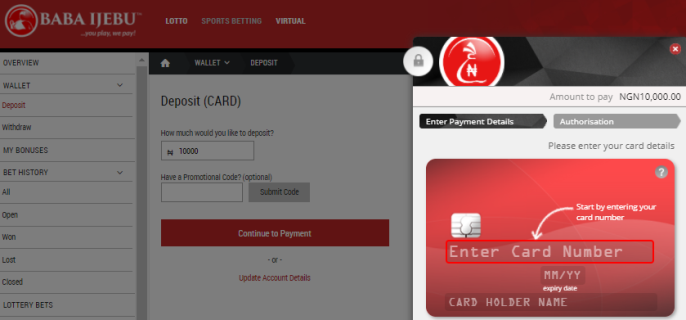 Step 6: Input your CVV number (the 3 digits security code at the back of your card, click on Next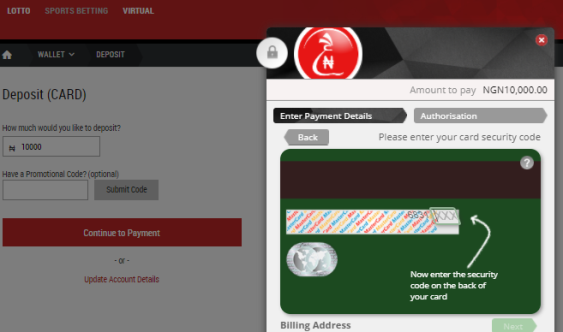 Step 7: Give a few minutes for your payment to be authorized, input your token or one-time password as preferred and click submit.
Your Card wallet will automatically be credited amount.
How to Withdraw Online
Step 1: Go to www.babaijebu.ng
Step 2: Log in, click on the drop-down arrow by name, select withdraw.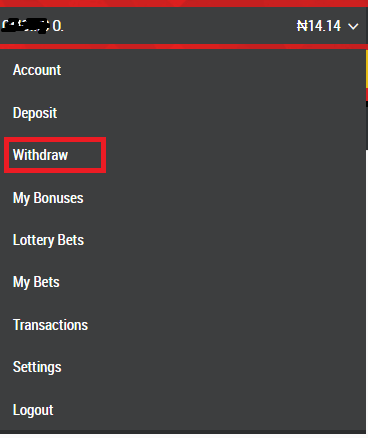 Withdrawing into your card:
Input the amount you want to withdraw and click withdraw.
The withdrawal will be sent directly to the account linked to the card you made a deposit with.
Withdrawing into your bank account:
Input the Account name, Account number, select your bank name and amount, click on withdraw.
Withdrawal made to card takes 4-5 working days and a withdrawal made to bank takes 24 hours.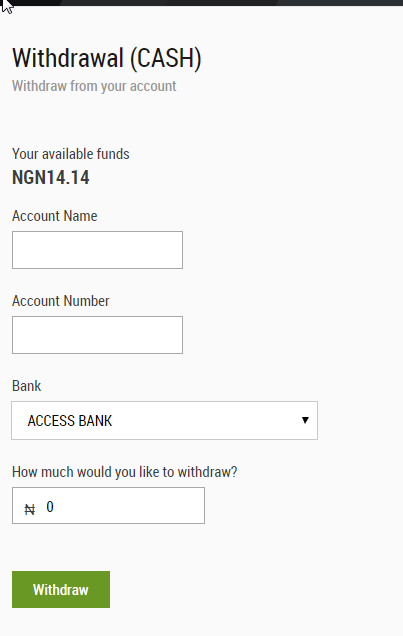 So that's it!
Playing Baba Ijebu has never been easier.
Fund your account, place your bets, wait for the draw and withdraw your winnings.
Baba Ijebu gats pay us our dough… 🙂